This past week I finally used a Groupon deal that I purchased and attended an interior design class with two of my girlfriends.  It was called Affordable Interior Design and was taught by interior decorator, Betsy Helmuth.  I had fun, but for the most part I felt like I was already aware of most of the lessons she taught.  I guess you could say its common sense for a visual person? However, I did get a couple of good tips out of the class. For example, we learned the measurements for ideal furniture sizes and that the sofa should always be placed against the longest wall in the room.  It also affirmed my long standing idea that the main point of access in a room should be visible from the sofa.
Another idea that it reinforced for me is that there should be a mixing and matching of materials – if you have a wooden coffee table, get a metal TV stand and glass side tables.  This way you avoid matchy-matchiness and the feeling that everything came from the same catalog.  I know this, but I'm ashamed to say I have not done this in practice.
I've posted in the past about our wonderful steel and indian rosewood dining table.
We also own this iron and glass coffee table from pottery barn.
And although our dining table sits in the dining knook while the coffee table is in the livingroom, these two metal framed pieces are basically in the same open space.  I mean, this doesn't violate Betsy's rule of mix and match too badly, but we just bought yet another metal framed item from Ballard Designs.  Its the Durham Tall Bookcase.  Its at least different from the coffee table since it has wood rather than glass.  But it will be placed at just the other end of a long wall from our wood and steel dining table.
Is this too much??  Have I gone overboard?  A lot of what is involved in good design is having strict restraint, and I'm afraid I've shown weakness here.  BUT I LOVE EACH PIECE SO MUCH!! In the end, I think it will be OK and I'll tell you why.  First off, we are getting wooden dining chairs that are painted black.  They are the Vienna Side Chairs from Crate and Barrel (a knock off of the classic Thonet Bentwood chairs), and we found them cheaper on craigslist!!  This will add an additional texture to the dining area.  It also helps that the graceful curves balance the hard angles of the table.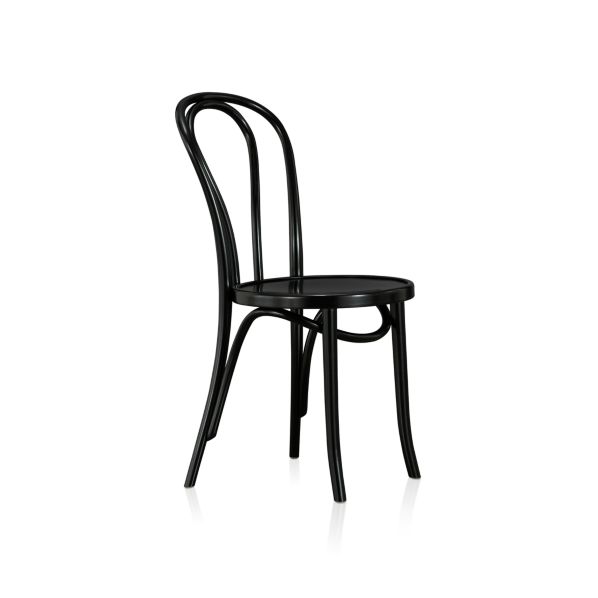 secondly, we plan to buy an upholstered arm chair that will sit between the dining table and the bookcase. That should break up that space more.  I'm looking for something tufted but simple – in a natural kind of off white.  Mothology furniture is my inspiration at the moment.
And finally, we have yet to buy end tables. This will be a much later purchase, but we'll definitely avoid any sort of metal framing here. My hope is that this will further remove the matchiness by increasing variety.  Here are a bunch of my end table ideas… just ideas mind you (don't panic, Joe)… most of these will be out of our price range and I'll be busy searching for cheaper alternatives.
I love this Genova Side Table from Anthropologie.  The marble top and rustic wood bottom would be a great contrast to the clean metal frames.
Here are two ideas from Wisteria:
Here's one from Ballard:
And I'm absolutely loving West Elm these days.
I would he happy with something like any of these.  now the search begins…